Certificate Course on Qualitative Data Analysis
Analyzing qualitative data includes a combination of skills. Participants will get a comprehensive understanding of methods for analyzing qualitative data, an understanding of the fundamentals of analysis, and the opportunity to improve important skills through this intensive online workshop.
Qualitative Research Workshop
Day 1:

i. Introduction to Qualitative Research:
The proliferation of Qualitative Research
Qualitative Research vs. Quantitative Research
What is Qualitative Data
When to use Qualitative Research

ii. The Qualitative Approaches: Choosing among five approaches
Narrative Analysis
Phenomenological Research
Grounded Theory
Ethnography
Case Study
iii. Steps in Qualitative Data Analyzing (Cont.…)
Managing and Organizing Data
Reading and Memoing Data
Data Coding
Code Categorizing and Theme building

Day 2:

i. Content Analysis and Thematic Analysis

ii. Qualitative Data Analyzing with Software
An Overview of Qualitative Computer Program 
Data analysis with NVivo
iii. Writing about Qualitative Research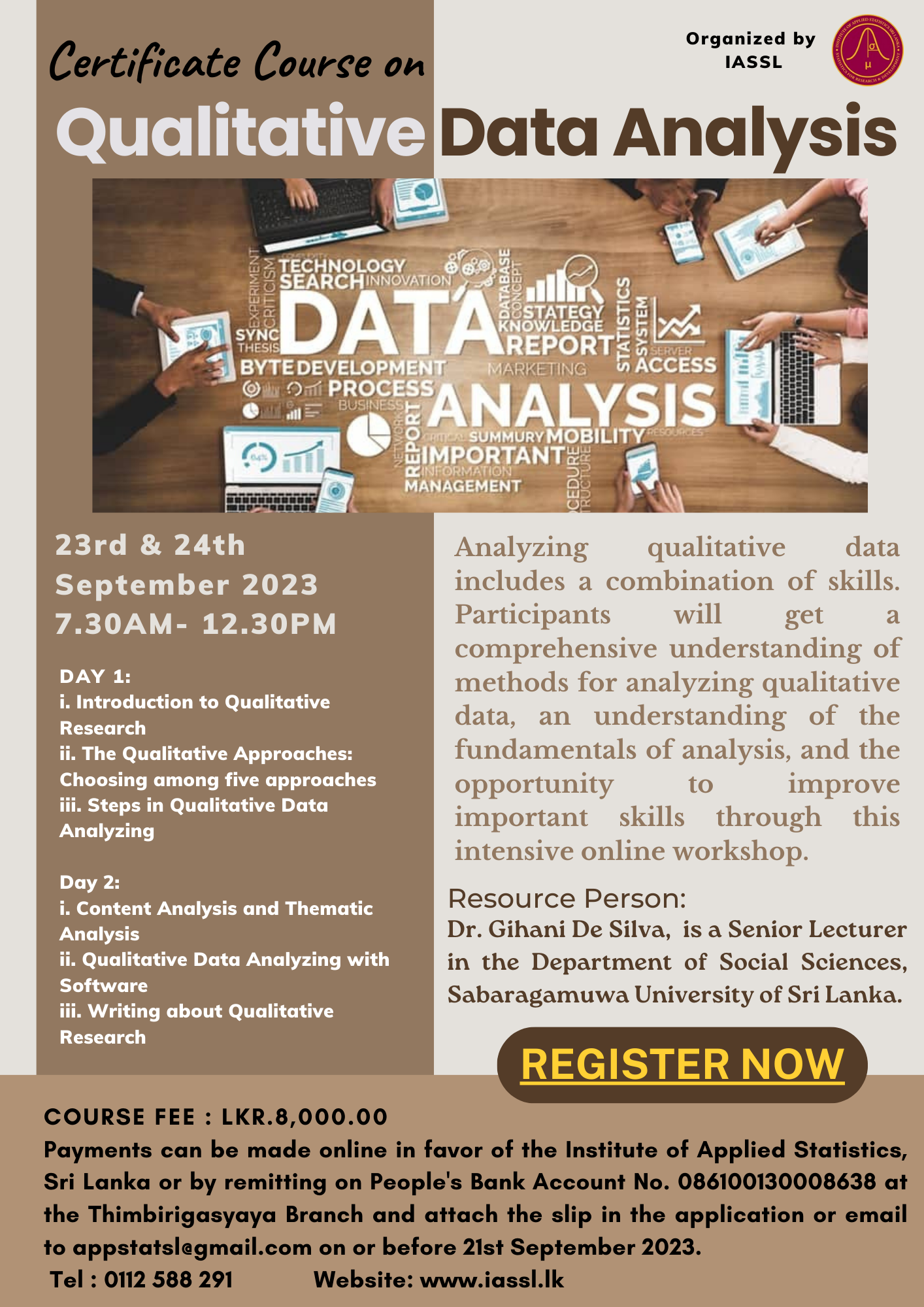 Payment Instructions
Payments can be made online in favor of the Institute of Applied Statistics, Sri Lanka, or by remitting to People's Bank Account No. 086100130008638 at the Thimbirigasyaya Branch and attach the slip in the application or email to [email protected] on or before 21st September 2023.
Contact Information
Tel: 0112 588 291
Website: www.iassl.lk
LKR. 8,000 /-
Resource Person: Dr. Gihani De Silva, is a Senior Lecturer in the Department of Social Sciences, Sabaragamuwa University of Sri Lanka.